PIPEGLADE
Graphical User Interfaces, The UNIX Way
Pipeglade is a helper program that displays graphical user interfaces for other programs. It renders the GUI definition found in a GtkBuilder file (created using the Glade Interface Designer), and communicates with the main program solely via pipes or fifos.
To have its GUI rendered by pipeglade, a program must be able to
send plain text commands to standard output or a named pipe and/or
receive and parse simple plain text messages from standard input or a named pipe.
Pipeglade strives for simplicity; it provides access to a subset of the features available in GTK+ v3.2.
See below for the set of widgets accessible via pipeglade. (Widgets of any kind can grab focus and change visibility, sensitivity, style, size, and tooltip.)
EXAMPLE
The shell script
clock.sh
uses pipeglade to display an analog clock on the interface defined in the GtkBuilder file
clock.ui
. The script was also used to generate the image below.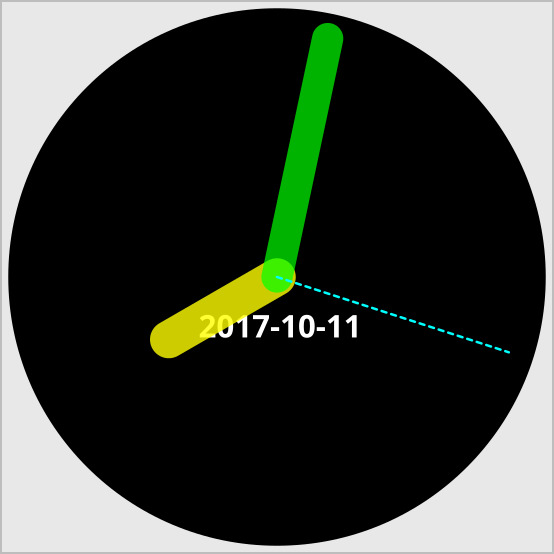 LICENSE
Copyright (c) 2014-2017 Bert Burgemeister <trebbu@googlemail.com> The MIT License Permission is hereby granted, free of charge, to any person obtaining a copy of this software and associated documentation files (the "Software"), to deal in the Software without restriction, including without limitation the rights to use, copy, modify, merge, publish, distribute, sublicense, and/or sell copies of the Software, and to permit persons to whom the Software is furnished to do so, subject to the following conditions: The above copyright notice and this permission notice shall be included in all copies or substantial portions of the Software. THE SOFTWARE IS PROVIDED "AS IS", WITHOUT WARRANTY OF ANY KIND, EXPRESS OR IMPLIED, INCLUDING BUT NOT LIMITED TO THE WARRANTIES OF MERCHANTABILITY, FITNESS FOR A PARTICULAR PURPOSE AND NONINFRINGEMENT. IN NO EVENT SHALL THE AUTHORS OR COPYRIGHT HOLDERS BE LIABLE FOR ANY CLAIM, DAMAGES OR OTHER LIABILITY, WHETHER IN AN ACTION OF CONTRACT, TORT OR OTHERWISE, ARISING FROM, OUT OF OR IN CONNECTION WITH THE SOFTWARE OR THE USE OR OTHER DEALINGS IN THE SOFTWARE.